Creating workflows - step by step
Open the System tab, select "Workflows" from the side menu and press "Add"

Give your workflow a descriptive name

Give groups rights on topics within the workflow by adding them to the fields in the section below:

"General access" has rights to see, create and edit the title, description, position and labels on topics within the workflow. The field can contain one or more groups, or just @Project, to include everyone in the project.

"Can set assignee and deadline" has rights to set and change the assignee and due date. If the field is empty, the assignee is locked to the pre-populated user or group.

"Can set topic as done" gives the right to change the topics's status to "done". Groups and members of groups added here can be set as assignee.

"Can set topic as closed" gives the right to change the topic's status to "closed". Permission to close the point does not also give the right to set the topic as "done".

"Can comment on the topic" gives the right to add comments on the points.
Anyone who has at least one of the rights above, can see all topics within the workflow.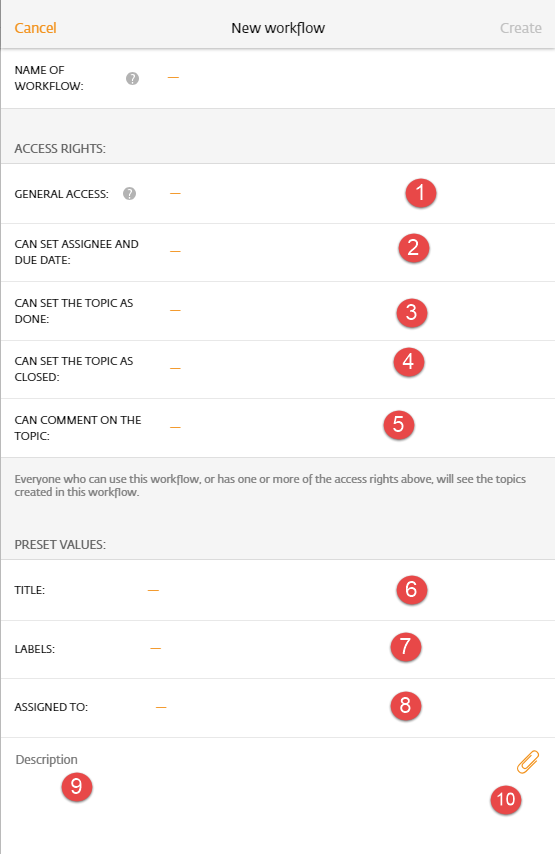 Fields from 6-10 (Title, labels, assignee, description, and attachments) can be preset on the template or be set when using the workflow, i.e. capturing a topic. 
If set on the template, these will be set on all points within the workflow upon creation. Who can change the values, is controlled by permissions set in 1-5. If nobody has the right to change a value, it is locked.
Press "Create" to publish the defined workflow.
The workflow can now be used by any member of groups set in (1) General Access
Data controlled by the workflow 
Access rights (1-5) and title of the workflow is controlled by the workflow, so changes to these will also affect topics previously created using this workflow. Data set in 6-10, will follow the individua topics. I.e. changes in these fields on the workflow template will not affect previously captured topics.