The StreamBIM measuring tool has gone through a major update. We have introduced the concept "measuring-plane". This is a clip plane optimized for taking measures.
The idea of the measuring tool is to minimize the need for drawings and drawing production in projects as you no longer need pre-measured drawings. Personnel that need a measure can derive that themselves directly from the model. 
In a measuring plane you can add multiple measures in the same view, remove irrelevant measures and extend a measurement to the next object-intersection of the measuring plane.
The Measuring tool can be found in the lower left corner of the 3D screen.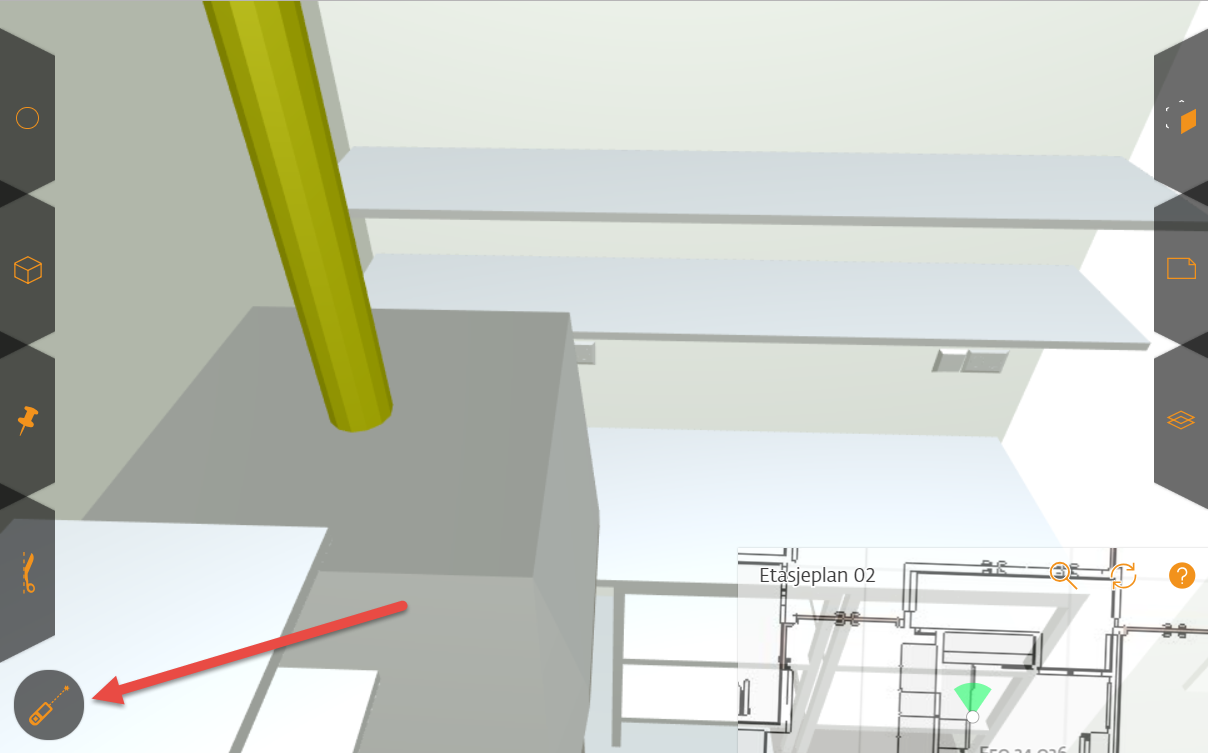 When you activate the measuring tool, you will get two options 
"Quick Measure"
Laser vectors generate from where/what the cursor points at. You get a horizontal-, a vertical- and a normal vector. You will get a preview of the direction for the vertical and horizontal beam before measuring.
"Measure Plane"
Enables you to create a measuring plane. When activated, you will get a preview of which plane that is detected, and when you have the desired measure plane displayed, click to create.
The depth of the plane can be adjusted afterwards using the slider in the left side of the screen, so you will only need to make sure it is set in the correct direction (usually a horizontal or vertical plane) 
When the measuring plane is set and before you start measuring, the menu will look like this

In addition to the measuring plane slider you can align view facing the Measure Plane (90°) by clicking the 3D cube.
When you start measuring you will also have the ability to remove all measurements and start over in the same plane. The menu will then look like this:

Activates "Measure plane-slider" (to change dept of the measure plane)
Align view 90° facing Measure Plane
Removes all measurements taken in the plane
Closes the measuring tool including measure plane
Precision
Measurements in StreamBIM use the geometry of the IFC file, and measurements are therefore dependent on the accuracy in the IFC. Measurements are rounded to the nearest mm (metric) and 1/16'' (imperial).
Working with measurements
When you have started measuring you can edit measuring vectors. You can remove measurements one by one using the "X".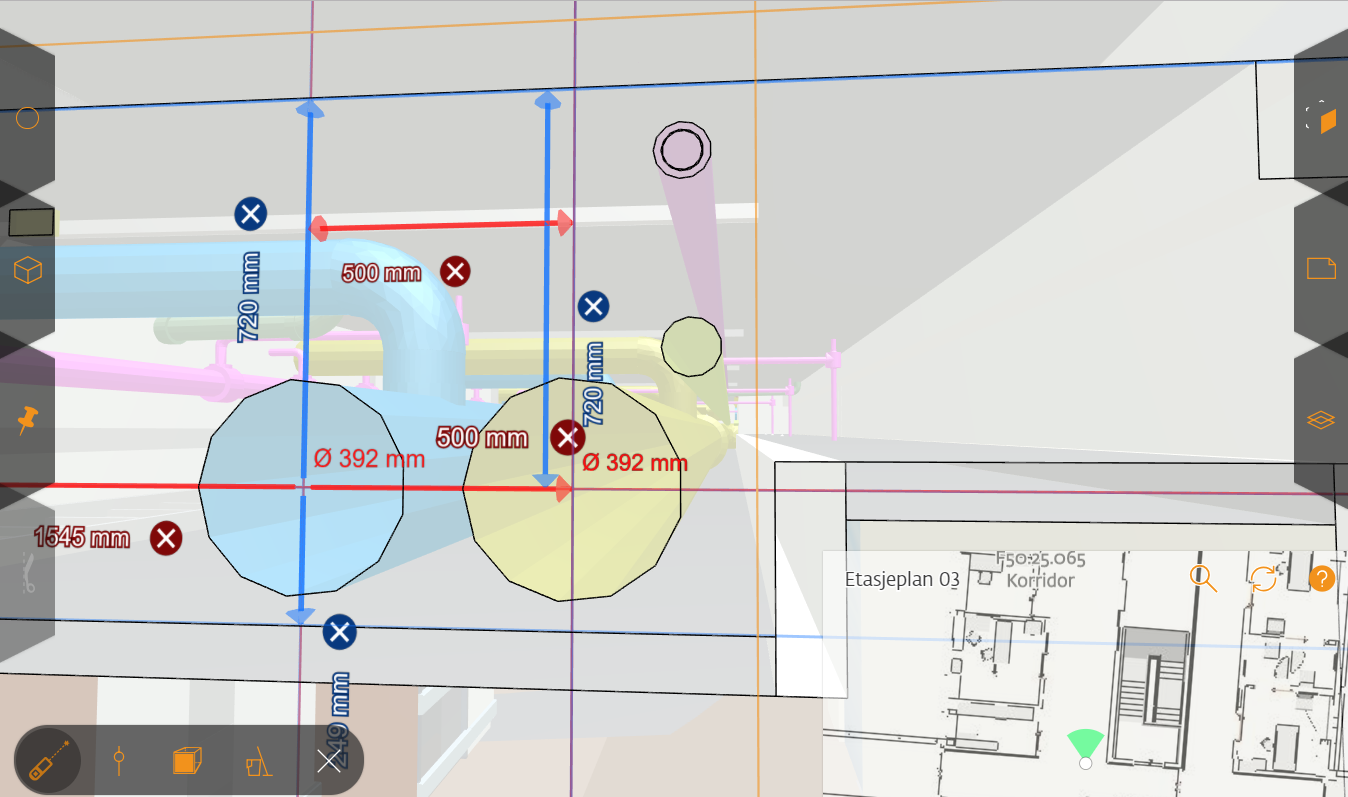 All vectors can also be extended in both directions. This is done by selecting the relevant vector and then use the arrow symbols « » to extend in needed direction.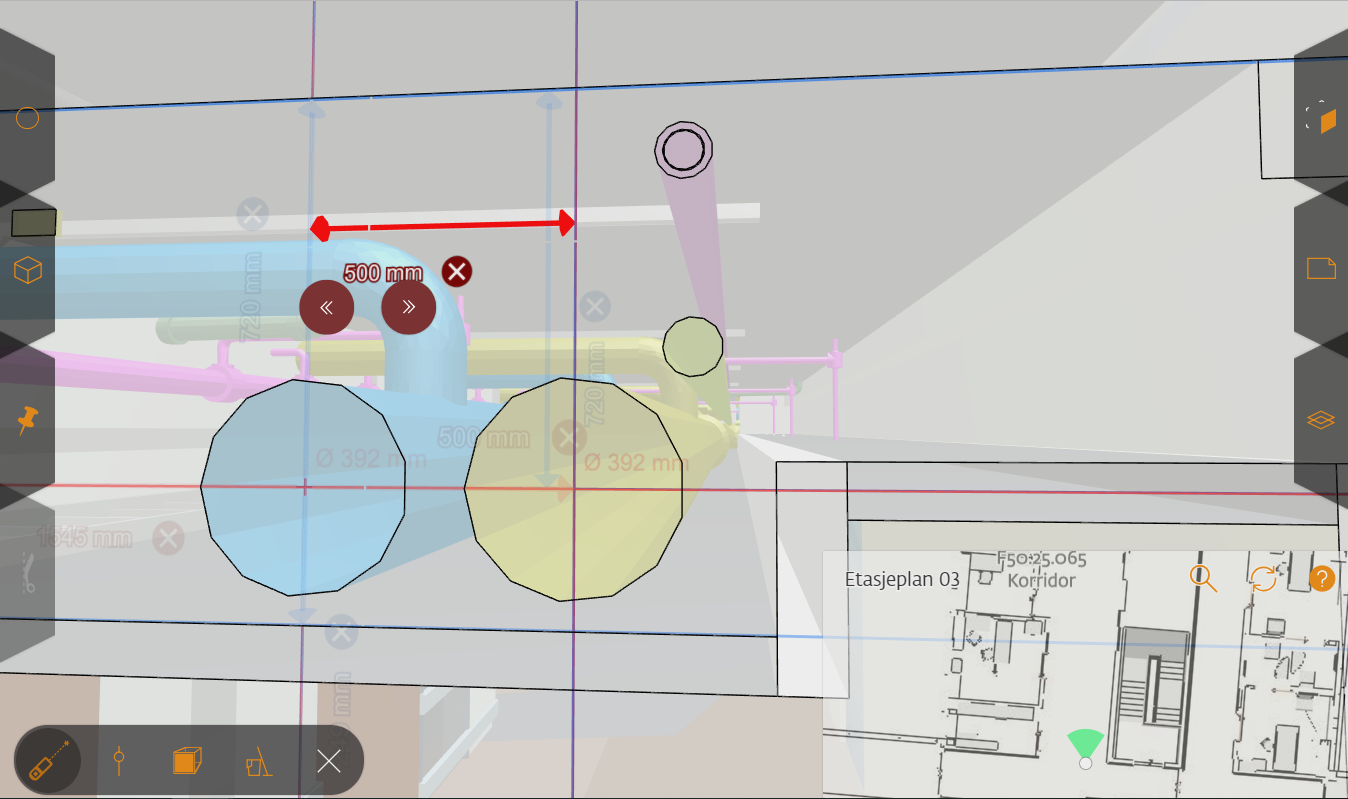 Choose to go right, » and the vector extends to next intersection in the measure plane.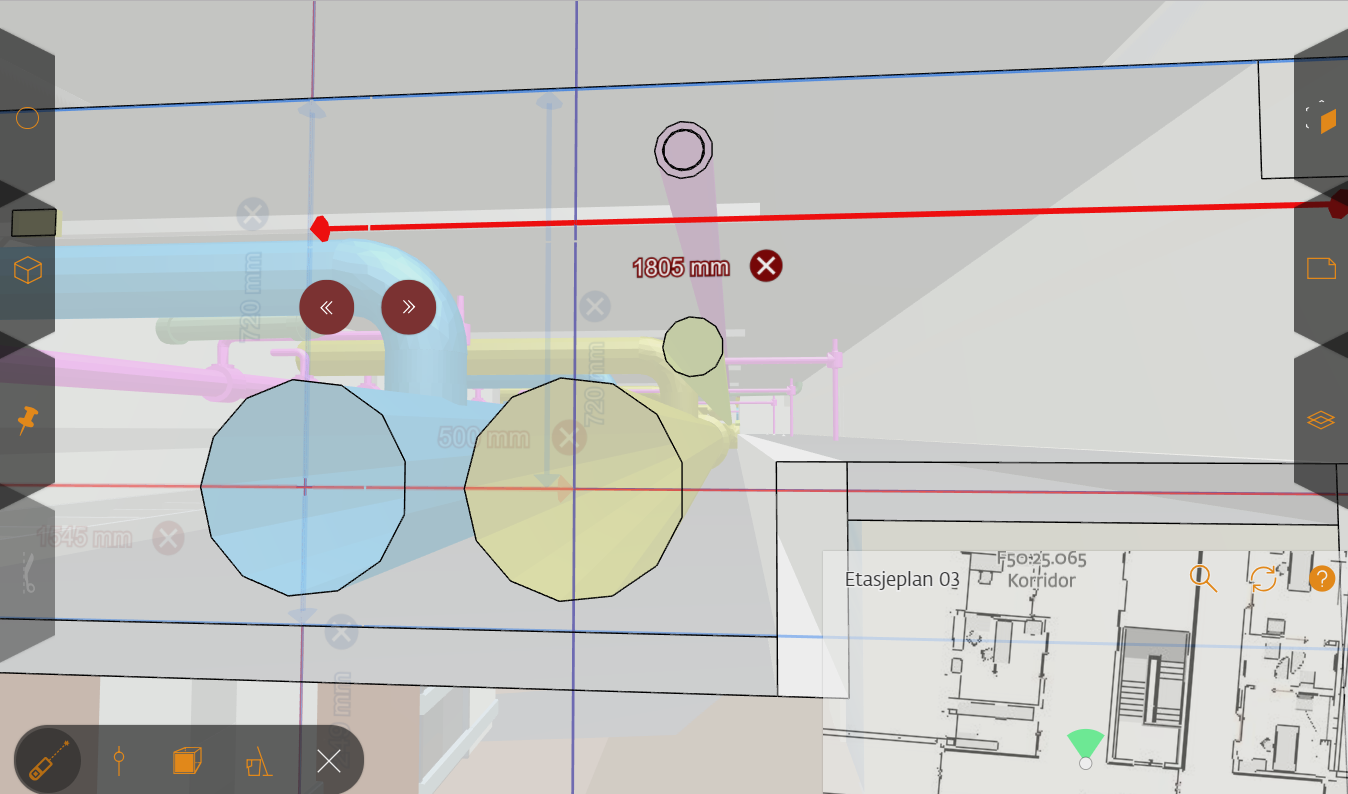 To deactivate edit mode, dobbel click (random) in the screen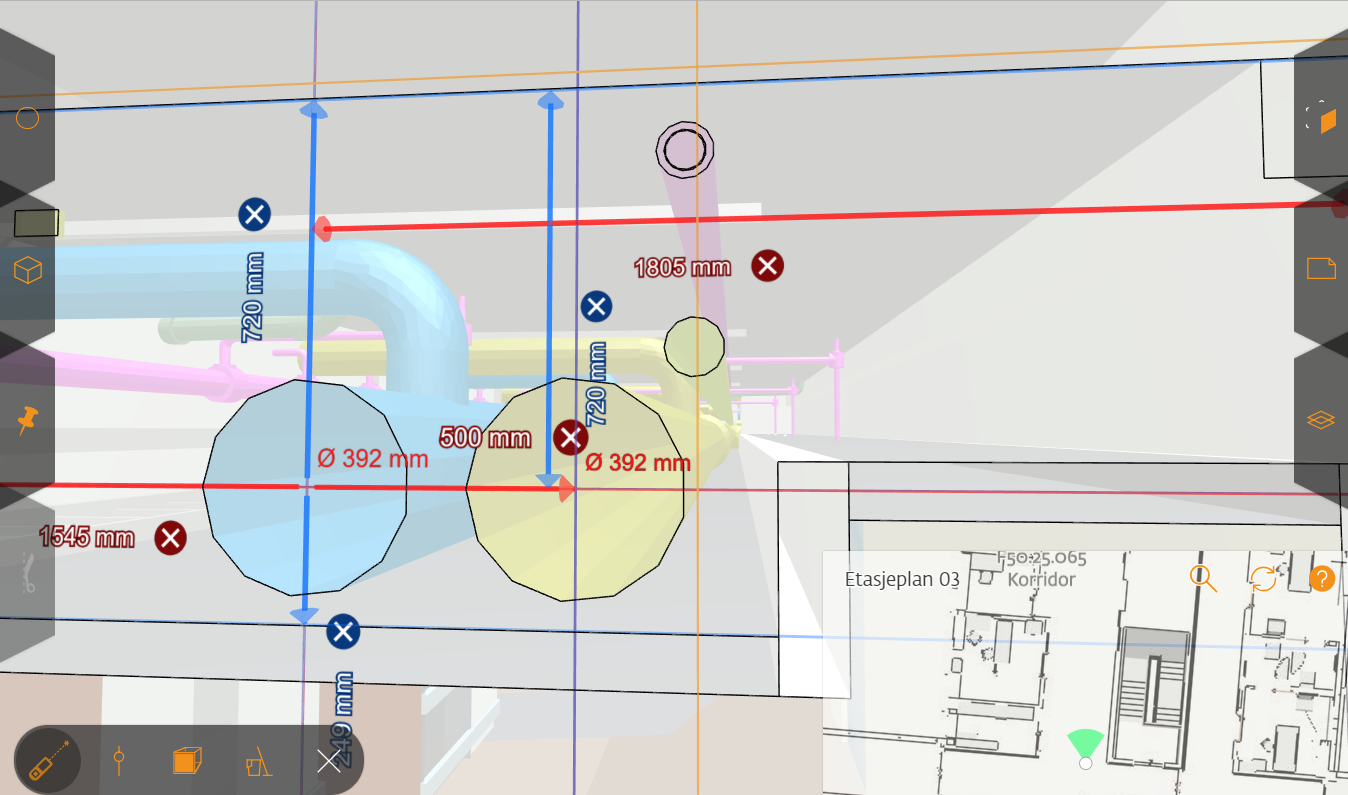 "Quick measure" recognizes pipes, so you can fast and easily measure from the center of a pipe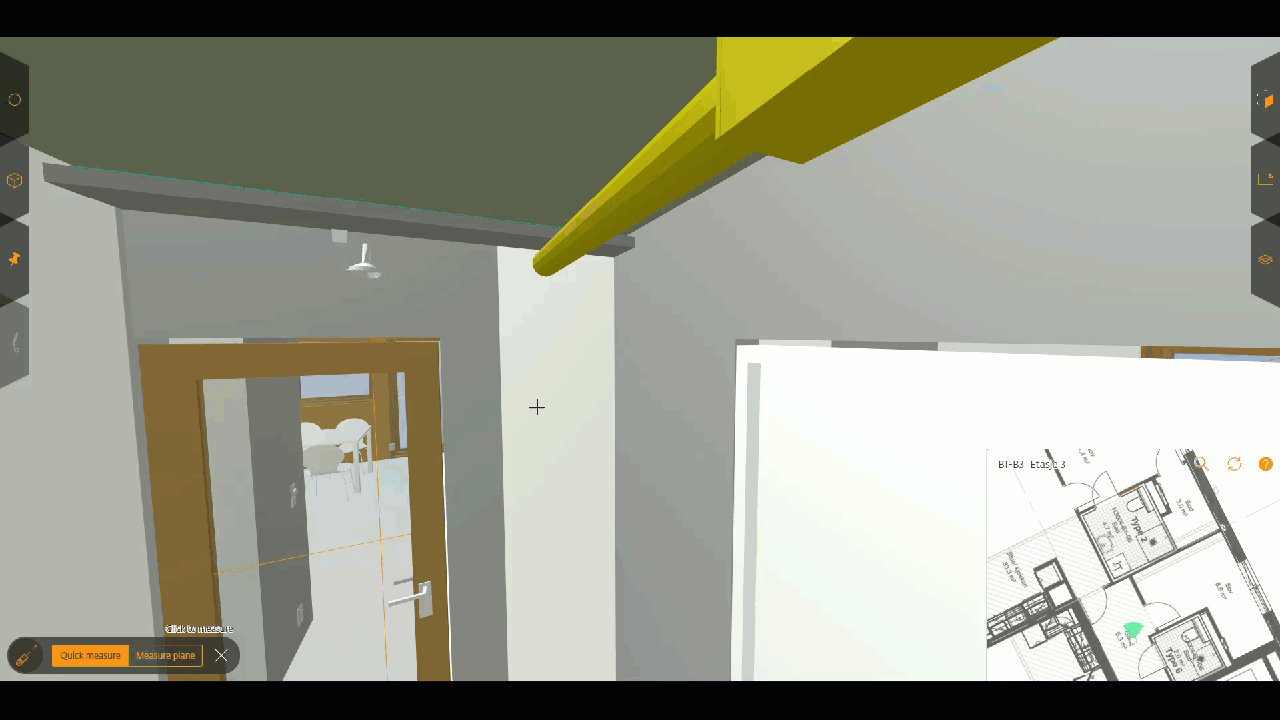 It's quite simple and intuitive, enjoy!